This Institute is permitted by National Commission for Indian System of Medicine (NCISM – Formerly CCIM). This Web portal is disclosed all the information needed by the Commission for an Educational Institute.
a. Details of the Director (Head of the Institution)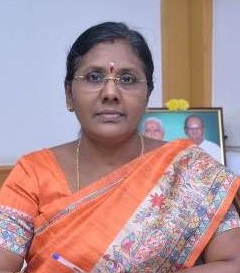 Prof. Dr. R. Meenakumari
Director,
National Institute of Siddha
(Ministry of AYUSH, Govt. of India)
Tambaram Sanatorium, Chennai – 600047
e-mail: nischennaisiddha@yahoo.co.in
Phone : 044 22411611 ; Fax 044-22381314
Date of Birth : 10-05-1965 (Age 58 years)
Qualification: M.D (Siddha)
Area of Specialization : SIDDHA MEDICINE (GUNAPADAM)
Date of joining:
Details of the Medical Superintendent

Prof. Dr. G. J. Christian
Professor and HoD
Department of Noi Naadal
Hospital Superintendent i/c
e-mail: christianvijila@gmail.com
b. Details of teaching staff along with their photograph, registration number, date of birth, qualification, experience, Department etc.
c. Details of non-teaching staff of college and hospital staff along with their department
d. Details of the sanctioned intake capacity of various courses
UG Courses:
B.S.M.S. (degree Course)
U.G course (B.S.M.S. degree) have been conducted in this institute.
Total intake capacity 60 seats; (All India seats 30 numbers & Intuitional seats 30 numbers)
PG Courses:
M.D (Siddha degree Course)
P.G courses (M.D Siddha degree) have been conducted in this institute.
The branches offered
Maruthuvam – 10 seats
Gunapadam – 10 seats
Kuzhandhai Maruthuvam – 10 seats
Noi Naadal – 9 seats
Nanju Maruthuvam – 9 seats
Pura Maruthuvam – 4 seats
Varma Maruthuvam – 3 seats
Siddhar Yoga Maruthuvam – 3 seats. (Total Seats : 58)
e. List of students admitted, merit-wise, category-wise for the current and previous year;
List of UG Students admitted in the Current Year (2022- 2023)
List of PG Students admitted for the Previous Year (2021- 2022)
List of PG Students admitted for the Current Year (2022- 2023)
l. Details of clinical material in the hospital
m. Month-wise analysis of attendance are below
Teaching staff
Non-teaching college staff
Hospital staff
Patients in In-Patient Department
———————— End of Page———————-