SPECIAL OUT PATIENT DEPARTMENT
Besides regular out patient services, National Institute of Siddha also conducting Special Out Patients service for the following diseases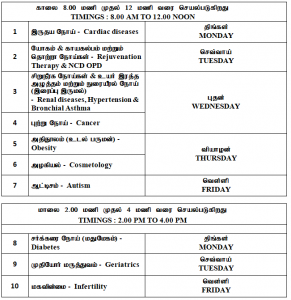 IRUDAYA NOI (CARDIAC DISEASES OPD)
Cardio vascular diseases are more prevalance in the common population. In Siddha system of medicine, the above said diseases are referred as Iruthaya Noi. Siddha system of medicine having various herbal and herbo-mineral preparation specifically for Iruthaya Noi. To treat the patients who are suffering from the above diseases, NIS conducting a special clinic on every Monday between 8.00 A.M – 12.00 Noon
MADHUMEGAM OP (DIABETIC OPD)
India is going to be hold the major global population of the diabetic patients by 2025. In Siddha system of medicine Madhumega noi (Diabetes) is classified under Meganoigal. Further more ancient Siddha literatures have been discussed about complications of Madhumegam exclusively. Towards the management of Madhumegam, NIS is conducting a Special Clinic on every Monday between 2.00 P.M – 4.00 P.M
MUTHIYOR MARUTHUVAM (GERIATRIC OPD)
Every Tuesday between 2.00 P.M – 4.00 P.M, a special OPD for senior citizens of 60 years and above is being conducted at the hospital to give individual care and counseling to them, along with regular treatment. Also dispensing medicines for 7 days.
AUTISM OPD
Autism is a complex disorder of neurodevelopment affecting the children which may manifest between the age of two and three years. It has its effect in the areas of communication, social and cognitive development, intellectual behaviour of the children. The disorder prevents the children from social interaction with their community by altering their interests, intuitive thoughts, imagination etc., The presentation may vary from mild to severe degrees. About one third of the people with Autism remains nonverbal and have intellectual disability to cope up with the challenges.
As the raise in urbanisation is in its peak, the incidence of Autism among the children is also on its way. The quality of life of these children makes their parents worried and the solutions are quiet miserable. Siddha system of Medicine with its unfurled treasure of formulations and holistic approach, render remarkable changes in the quality of life of these children. With this background, NIS is extending its health service support to these special children to improve their life in a holistic approach. A special OPD on every Friday between 8.00 A.M – 12.00 Noon for Autism is being conducted by the Department of Kuzhandhai Maruthuvam for the upliftment of the children.
YOGAM, KAYAKALPAM & THOTRAA NOIGAL (REJUVENATION THERAPY AND NCD OPD)
Globalization, increase in urbanization and industrialization, change in life style, food habits are known to be an etiological factors for increase in prevalence of Non communicable diseases such as diabetes, coronary heart disease and neurological disorders. Siddha system of Medicine through its holistic way of treatment brings back harmony of peaceful life and happiness in human being. Towards the rejuvenation, NIS is conducting a Special Clinic on every Tuesday between 8.00 A.M – 12.00 Noon.
PUTRUNOI (CANCER OPD)
Siddha medicine has great potential in the management of Cancer conditions and hence a special consultation is provided on all Wednesdays 8.00 A.M – 12.00 Noon.
AZHAGU IYAL (COSMETOLOGY OPD)
Hair and skin care is essential in contemporary world. Siddha system of medicine have described extensive range of hair tonics, skin care medicine as preventive and management of skin and hair disorders. In this aspect, NIS is conducting a Special Clinic on every Thursday between 8.00 A.M – 12.00 Noon.
ATHITHOOLAM (OBESITY OPD)
Obesity is defined as accumulation of too much fat in the body. It is known to lead different types of disease such as type 2 diabetes, heart disease, high blood pressure, arthritis, sleep apnea, and stroke. Obesity is referred as Athithoolam in Siddha medicine. Nation Institute Siddha is conducting a special clinic for Athithoolam on every Thursday between 8.00 A.M – 12.00 Noon.
SIRUNEERAGA NOIGAL, ATHIKURUTHI AZHUTHAM & NURAI EERAL NOI-IRAIPPIRUMAL (RENAL DISEASES & HYPERTENSION & BRONCHIAL ASTHMA OPD)
NIS is conducting Special clinic for Siruneeraga noigal, Athikuruthi azhuththam & Nurai Eeral Noi- Iraippirumal (Renal diseases, Hypertension & Bronchial Asthma) on every Wednesday between 8.00 A.M – 12.00 Noon.
INFERTILITY OPD (MAGAVINMAI)
Increasing cases of infertility necessitates special attention and hence the hospital organises a special OPD on every Friday between 2.00 P.M – 4.00 P.M which provides care for the infertility associated conditions in both male and female.
DENGUE/CHIKUNGUNYA OPD
During the outbreaks of diseases like Dengue, Chikungunya Fever Special OPD are conducted to treat the affected patients.